In a fantasy world I would be spend my days tasting beautiful foods, prepping the ingredients and then of cooking all day, but this is not a fantasy world. Sadly, I've chosen the hustle and bustle of Wall Street not the glamor of being a Top Chef, but a girl can dream right? With very little time on my hands, I've had to come up with ways to serve meals that are quick prep, paleo and down right tasty, and I needed the proper tools to do just that. Here are a few of my essentials for a successful paleo cooking experience: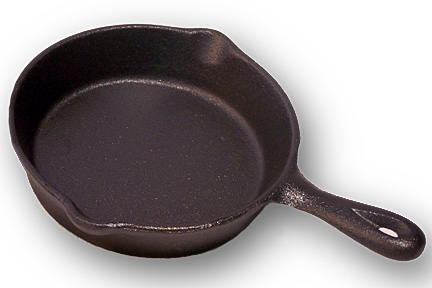 Cast Iron Fryer
These are the perfect for searing, frying and, on occasion, baking. Unlike their less expensive counterparts, cast iron improve with age. Once properly seasoned your cast iron pans develops a natural non-stick finish that won't absorb the flavors of the food cooked. The key to a perfectly seasoned pan is to NEVER wash with soap, just use warm water and a stiff brush.
Peeler
A few years ago, my sister bought me a Zena Star peeler and after reading of its lifetime guarantee, I thought maybe she had got scammed. Fast forward 10 years and it's still like new! Going paleo means eating root vegetables which usually have tougher skins. Dealing with knives can be dangerous, so invest in a good peeler (and save your hands).
Baking Sheets
I know this might come as a surprise but baking sheets are not just for cookies anymore. You can use them to roast meats, crisp vegetables and if your sweet tooth rears its ugly head, go ahead and bake paleo-friendly cookies. When roasting meats, just line with aluminum foil or parchment paper and you're ready to go!
Mandoline

A mandoline is a great way to slice time (see what I did there!) in half when you're working with vegetables. There are great versions on the low price end at places like Target and pricier ones at my dream store, William Sonoma** I use the mandoline often, and my absolute favorite use is making shoe string fries for the boys. **update Here's a super AWESOME coupon courtesy of Verified Codes*
Slow Cooker
I can not stress enough how important it is for everyone to have a slow cooker/crockpot! Slow cookers allow you to load in all of your protein, vegetables and spices at once, set the timer and go. There is no hovering over pots and pans, giving you time to get other things done. Twice a month I put an entire chicken in my slow cooker and leave for work. By the time I return not only is dinner ready to serve but the house smells amazing. There are so many awesome recipes available on the internet so you won't get bored, like this one for lemongrass and coconut drumsticks, YUM!
What are some of your favorite kitchen tools?